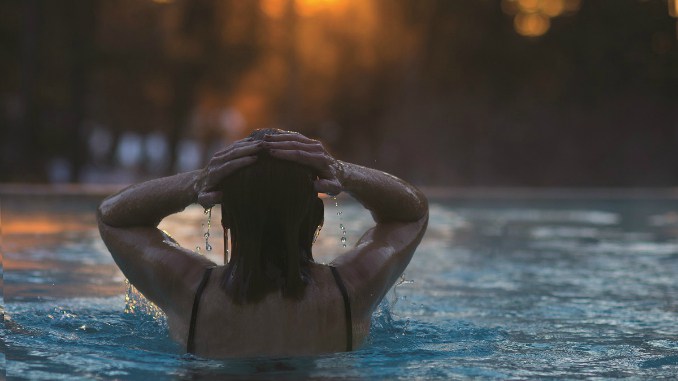 Take the Edge Off
10/27/2017
By Kristine Hansen
Ease workplace tension and deadline pressure by winding down with the team at a destination spa, miles away from the office, as part of a wellness break or team-building activity. Hosting a corporate retreat or board meeting at a resort-style spa goes deeper than a massage in a private treatment room with aromatic oils or soaking in a hot tub. Many Wisconsin spas are connected to resorts or hotels that offer meeting space and dining areas rivaling that of any boutique hotel, with calming décor (remember, this is a spa) and activities designed to bridge the mind, body and spirit.
Set aside any notions that spa days are not work days—and that they could distract from work goals. Quite the opposite often occurs when the team returns to the office refreshed and revived. Organizing a meeting at a spa might be just what the team needs to reset and reboot.
WELL Spa + Salon is tucked into a separate building, away from the Lake Geneva resort's restaurants and rooms. Yoga classes and a rock-climbing wall heighten the senses and encourage tactile movements away from the computer. But that relaxing spa-like feeling clicks into place immediately upon entering the 1,300acre property. Formerly Hugh Hefner's Playboy Club Hotel, Grand Geneva has been a resort since 1994, folding a golf course, spa, horseback riding and (come winter) skiing onto the property. All three restaurants offer private dining areas for 16 to 40 people for a post-spa meal, such as a surf-and-turf dinner at Geneva ChopHouse or a mini-trip to Italy at Ristorante Brissago, where every dish is inspired by Italian cuisine and nearly every ingredient is imported from Italy.
Centrally located in Green Lake, this resort is ideal for employees scattered around the state to easily meet in one location. Like Grand Geneva's spa, Evensong Spa is in a separate building across from the resort, creating even more privacy. Walking the indoor labyrinth coaxes a slower heart rate and more meditative mood, and the spa café hosts an artisancheese plate, scrumptious salads, and glasses of wine and Wisconsin craft beer. (Staying overnight? Serve attendees an energy-focused continental breakfast.)
Meetings can be held in nine different spaces throughout the property and— provided it's warm weather—tack on activities like a yacht cruise around Green Lake, followed by a s'mores reception, for further wellness and relaxation.
It's hard to believe this rural, elegant property in Elkhart Lake is only an hour from Milwaukee and Green Bay. With its white exterior and lakefront setting, it feels more like an East Coast getaway than it does Wisconsin. The lake's energy is harnessed at Aspira Spa, with treatments such as the Sacred Waters Massage, using water drawn from the lake. Yoga classes, a meditation sanctuary and lunch at the cafe round out a day at the spa. In addition to 38,000 square feet of meeting space, another perk for groups are al-fresco meetings on outdoor patios. For smaller groups, the Conference Center's Villa Gottfried Room and the Villa Gottfried Parlor—with its fireplace and comfy furnishings—are great spots to hash out a new plan or initiative. Groups can also engage in a fun teambuilding exercise by taking a class at the on-site L'ecole de la Maison cooking school. Dinner at Lola's On the Lake spans seafood and meat entrees but also includes Aspira Spa signature dishes—like a pear salad or caramelized scallops in champagne-orange sauce—to keep the health-minded wellness aspect going throughout your event.
An adult angle to the family-friendly resort community of Wisconsin Dells, Sundara is a zen place surrounded by forested land. And the water features are way more relaxed than a water park (there's a heated outdoor infinity-edge pool). While suites are available for overnight booking in the same building as the spa, groups might like to host meetings in an adjacent 1,700-square-foot villa, boasting an outdoor veranda with enough room for eight and a three-sided fireplace within the interior. This can comfortably hold eight people for meetings as well as overnight stays. Meditation Trail is a great spot to decompress after meetings. Groups of up to four people at a time can receive a private yoga class. Kick off a day of business with sunrise yoga, a new offering at Sundara. Group bookings in the spa are available Monday through Thursday only, to ensure proper attention, as weekends can be busier.
Convenient for government and university employees to escape their offices for a spa break, one of Madison's newest hotels hugs the Lake Mendota shoreline in downtown Madison. Lesser known about the property than its waterfront views and dining options is its spa, a destination with a yoga studio (from restorative, ultra-calming yoga to yoga dance parties), pool and steam rooms. Almost every class comes with a view of Lake Mendota. Meeting venues include Nolen Gallery and The Grand Ballroom but there are also more intimate spots for break-out sessions and discussions. A group meeting here doesn't ever have to leave the building thanks to five restaurants, including the Boathouse, with its patio curling up against the lakefront. And, of course, lake views from most rooms provide that feel of serenity even though you are steps away from the Capitol, UW campus and more.
Even with the current hotel boom in the downtown of Wisconsin's largest city, this  historic, luxury hotel has a stronghold on the most luxurious spa for miles. A quiet oasis, WELL Spa + Salon is in the lower level of the luxury hotel. Interestingly, the hotel used to house Turkish baths in the exact same space. This modern-day spa is also a nice retreat from the bustling environment outdoors, with two-room suites that can be used for a half-day affair. Among the signature treatments is a take on those mud baths, with the Hammam Steam Shower + Mud Spa, using natural mineral clay imported from Morocco followed by a shower and then a steam application. The Orchid Room can be reserved for a group of up to 12 people, with the option to cater in meals (breakfast or lunch only) prepared by the hotel's culinary team. Or there are other meeting spaces within the hotel. Thankfully, there are so many amenities at The Pfister that a group can easily dine, conduct business and receive pampering—all under one roof. A pool on the 23rd floor is open to guests only and, almost every night of the week you can enjoy live jazz in the Mason Street Grill for a chill-down dinner at the conclusion of your group's time together.