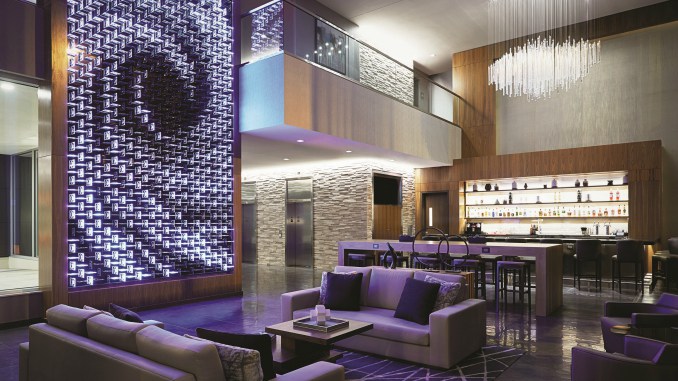 Shiny & New: The Latest Hotels and Venues in Wisconsin
10/27/2017
By Betty W. Stark
In a nod to Wisconsin's considerable attributes, major hospitality groups have launched new properties this year that take cutting edge to a new level. The results are exhilarating, offering meeting planners and guests space concepts that are fresh and innovative, décor that dazzles, and dramatic venues with plenty of wow!
AC HOTEL MADISON
Perched at the top of the burgeoning East Washington Avenue Corridor, a scant block off Madison's Capitol Square, the recently-opened AC Hotel—the first in Wisconsin— has quickly become the new hot place for business travelers and corporate gatherings.
After launching the brand in Europe, hotelier Antonio Catalan of Madrid, Spain partnered with Marriott to roll out the concept in the U.S and beyond. They describe their 165-room Madison offering as "Midwest charm with European soul."
The subtle sophisticated décor, including a variety of attractive textured surfaces and curated art, extends throughout the property. Guests drawn to the ninth and tenth floor dining/lounge, socializing and meeting spaces are rewarded with floor to ceiling knock-your-socks-off views of the Capitol and lakes Mendota and Monona. Fireplaces, cozy areas for smaller gatherings, and an outside balcony with seating and spectacular views offer several options for surveying downtown Madison from a lofty perch.
At 924 square feet, the meeting room adapts to groups from 24 (U-shape) to 64 (theater). Customizable lighting, state-of-the-art TVs and the latest AV technology offer maximum flexibility. An on-site team is available for personalized meeting consultation and services, including a unique complimentary Reservation Link for guests to reserve rooms.
In addition to the meeting room, King Executive Corner Suites adapt for board-style meetings for up to 10 and include a kitchenette for breaks and light lunches. Local favorite small-plates restaurant Eno Vino offers a creative menu in the 10th floor dining room as well as custom menu selections for meeting breaks and full group dinners.
WESTIN MILWAUKEE DOWNTOWN
As further evidence that major hotel groups like what they see in Wisconsin, Westin Hotels and Resorts Worldwide debuted The Westin Milwaukee in June. It's Wisconsin's first Westin hotel.
Located in the heart of downtown, a short walk from Lake Michigan, the hotel is close to the business district and about seven miles away from Milwaukee's Mitchell International Airport.  It's a block away from the Historic Third Ward neighborhood— think dining, shopping, night life—and several other Milwaukee landmarks.
The hotel's contemporary exterior showcases metal, granite and terracotta. Colors found in nature create a serene light-washed interior. Expansive windows dominate the urban-style lobby, restaurant, guest rooms and meeting rooms, taking full advantage of lake and city skyline views.
Meeting and event space totaling 9,654 square feet is spacious and diverse, offering options for small board meetings to grand events. All meeting and event rooms are state of the art, anchored by a 4,800-squarefoot Grand Ballroom with LED lighting that gives planners options to customize with color temperature and selection. Touch panels control lighting and sound, digital signage and contemporary fixtures.
The Stella Van Buren "Steakhouse with an Italian flair" offers a private dividable room that seats 32, as well as semi-private areas for events up to 50 in elegantly appointed sections. The Stella Van Buren lounge with a soaring back bar is a popular gathering place. In-house staff assists with meeting menu planning.
The Westin brand is known globally for its emphasis on wellness furnishings and services including the Heavenly Bed and Heavenly Bath, as well as fresh and healthy creations from the SuperFoodsRx menu. Fitness offerings include lakefront runs and a fitness gear lending program that provides shoes, shorts and T-shirts for those who choose to pack light.
FOX CITIES EXPOSITION CENTER, APPLETON
The architects and contractor for the dramatic glass and concrete Fox Cities Exposition Center on West Lawrence Street in Appleton accomplished a first in the state of Wisconsin when they sited the one-of-a-kind building deep into a hillside at Jones Park.
The six-acre city park near downtown offers amenities for almost every season, including walking and biking trails, basketball, picnic areas, ice skating and a pavilion popular for seasonal music events. It will serve as a natural outdoor extension to the expo center.
While the hillside location is notable in part because contractors had to remove 76,000 cubic yards of dirt and pour nearly 9,000 cubic feet of concrete, the real buzz is the building itself.
An imposing multi-tiered structure wrapped in glass, it dramatically integrates with the park and its facilities from wide tiered concrete stairways. This unique construction allows for multiple uses including outdoor functions and respite space for event attendees seeking fresh-air breaks.
The dividable 30,000-square-foot Exhibition Center space is designed for multiple uses, for one large event or as three separate spaces. A 7,300-square-foot pre-function space adjacent to the main event space is ideal for breaks or overflow exhibits. A 17,000-squarefoot outdoor plaza adds more options for receptions and other special events.
Two conference rooms at street level can be rented in conjunction with an exhibit center event. The lobby area opens on to Lawrence Street with lower levels incorporated into the Jones Park hillside. An expansive streetlevel civic plaza also provides additional outdoor event space.
The history of the Fox Cities area is an integral part of the center. Most notably, a unique 82-foot vertical spire incorporated into the building is lit by color-changing LED lights that can vary seasonally or for special events.
The spire represents the smokestack of the first hydroelectric power plant in the country. It began operation on the Fox River in Appleton in 1882.
The public expo center grand opening is scheduled for January 11, 2018. Groups are booked that month for an inaugural launch. Owned by the City of Appleton, the facility will be managed by and connected to the 390-room Radisson Paper Valley Hotel by an elevated walkway. Events will be booked through the hotel sales department.
LODGE KOHLER, GREEN BAY
Kohler hospitality has arrived in Green Bay and it's a winner.
Green Bay Packer fans, lovers of luxury spas and anyone who covets a customdesigned Kohler bathroom can rejoice at the recent opening of Lodge Kohler. This exclusive hotel is located in Green Bay's new Titletown District, an area that features a 10acre public plaza in a parklike setting.
Located directly across the street from historic Lambeau Field, the five story, 144room Lodge Kohler offers four-diamond amenities true to Kohler tradition.
The panoramic top-floor Taverne in the Sky restaurant and bar affords guests both inside and outside dining and socializing. Outfitted with fire pits and lounge seating, the adjacent fifth-floor Sky Terrace overlooks Lambeau Field just across the street. It's ideal for group gatherings up to 50 people.
Two private rooms within the restaurant are available for meetings, private dining or both, for up to 20 guests. Each dining room has Air Media capabilities that allow groups to wirelessly present on a flat screen TV from their laptop, tablet or any mobile device.
Located in the fifth-floor restaurant, The Tower is a semi-private environment for group dinners accommodating up to 40 people. It also works well for dinner, lunch or breakfast meetings with a screen and projector. Other configurations are possible for groups who want to buy out the space for the evening.
Outside on the main level, the Gazebo gathering area is nestled in a courtyard with the Kohler Waters Spa in the background. Surrounded by plants and greenery, it's a semi-secluded setting away from the stadium view for receptions and other social events. There is ample room for musicians and a bar.
Lodge Kohler offers catering services for gatherings of 20 people or more.
NOAH'S EVENT VENUE, MADISON
From its 2007 founding in Utah, Noah's Event Venues have opened in more than 35 locations across the country. The majority have launched since 2013 (there were five then) and several more are on the drawing board.
The Madison venue opened about a year ago just off Highway 151 in the American Center, a location strategically chosen for its proximity to key business locations and area hotels.
The American Center location is contemporary and high end, with soaring ceilings and large windows that flood the rooms with light. Various function rooms, smaller to large, accommodate meetings, banquets, weddings, reunions, seminars, conferences, holiday or office parties, training sessions, breakout rooms, board meetings, birthday parties and more. An outdoor patio can also accommodate events.
Each space is an inviting backdrop that can be personalized from the wide selection of customization packages. Options can include specialty linens, ceiling décor from fabric to crystal chandeliers, colored accent lighting, multiple table and chair arrangements, table centerpieces and other custom decorations, set- up and take down, state-of-the-art AV systems, lecterns and board room arrangements. Wifi is available throughout.
The company has an open vendor catering policy (they offer a "recommended" list; prep space is available onsite). Their alcohol policy requires that all be purchased from their preferred partner. Full-time staff is onsite and inspection tours are encouraged.