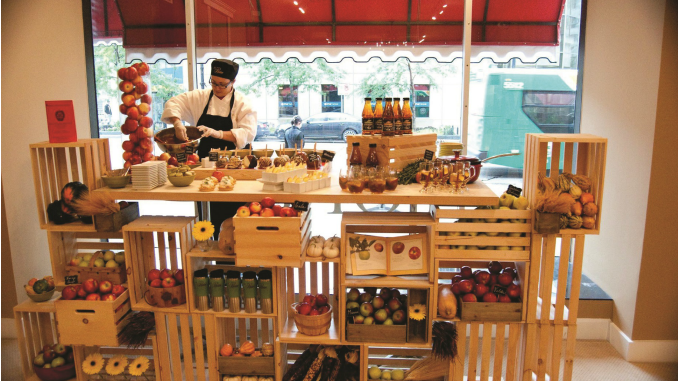 Get Creative with Meeting Breaks
By Brian Frakes 
Making a meeting break extraordinary requires attention to detail and a passion for creativity. It also helps if you have easy access to exceptional local ingredients, bakeries and culinary artisans. Meeting attendees can be transported to an "in-house" doughnut shop using sweet treats from a local bakery or can take a fall sensory journey with a display of Wisconsin's best—apples. Any of these ideas can help transform a meeting into a memorable experience.
Throughout the Midwest, but especially in Wisconsin, fall comes in the shape of an apple. Families pick apples, friends go on hay rides through apple orchards, teeth inevitably get stuck in chewy caramel apples and folks can warm their fingers holding a warm mug of apple cider. By tapping into these memorable experiences, culinary teams can create a truly unique and remarkable meeting break.
At The Pfister Hotel, the 25-person culinary team often builds an apple orchard indoors for meetings in September or October. To capture the essence of fall, the hotel partners with a local apple orchard that has more than 120 varieties of heirloom apples. The culinary team creatively customizes an engaging and delicious food and beverage meeting break. Depending on the year and the meeting, the break may highlight different elements of the apple from pies to ciders.
In the past, meeting attendees have enjoyed mini apple pies, warm apple cider, green apple macaroons, apple doughnuts and a customizable caramel dipping station, where they could select different toppings for their apples, such as sprinkles, nuts, candy bars, drizzled chocolate and more. To create a full fall orchard experience, the team also decorated the table with hand-written signs, decorative apple arrangements in milk crates and pumpkins.
For The Pfister team, the break goes beyond bringing in the best fresh local ingredients, guests must walk away wowed. That was the goal for one apple orchard break. In addition to the food and beverages, guests were able to experience a dash of nostalgia and fun before going back to their meeting.
As a culinary team, the apple orchard themed break is a great example of how you can treat and wow meeting attendees. The break becomes extraordinary when meeting guests notice the hand-written signs, perfectly placed arrangements and personalized service, along with the fun, creative and good-tasting food.
Here are a few key takeaways we've learned building an apple orchard-themed meeting break:
Don't stray away from color.
All of the senses, including sight are necessary. As professional chefs, culinary teams know that presentation is key. During the apple orchard meeting break, The Pfister team accentuated the food with bright, vibrant accent pieces. The use of color draws in attendees to the main food event. One could even say, a colorful F&B break offers a break for the eyes from the meeting presentations, too.
Customization is king.
Customization is a win-win for the culinary team and meeting attendees. They walk away with a unique, custom experience to share with friends and family, and customization allows the culinary team to be even more creative. By customizing each year's fall apple orchard breaks, our culinary team is challenged to develop one-of-a-kind recipes and displays.
You don't need to go far for great ingredients.
By working with a local grower, the hotel can showcase and support the best of the region. And, meeting attendees can experience a glimpse, or a taste in this case, of what southeast Wisconsin has to offer.
Make it unexpected.
Playing off of customization, meeting attendees also want to be wowed. Take the break beyond their expectations. Every detail counts. During the apple orchard break, our team offered a lot of variety, presented the dishes with a lot of color and brought in local ingredients with a compelling story. Meeting attendees loved the experience.
This fall, I encourage you to think apples for your food and beverage break.