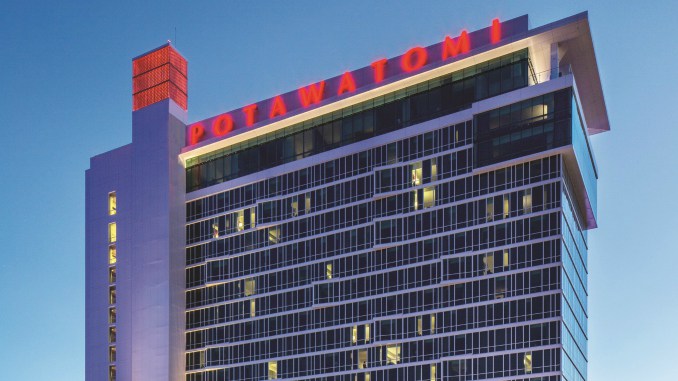 Potawatomi to Sponsor Streetcar
Potawatomi Hotel & Casino and the Forest County Potawatomi will be the presenting sponsor for Milwaukee's new streetcar, called "The Hop." As part of the 12-year, $10 million agreement, Potawatomi will also sponsor free rides for everyone for the first 12 months of operation.
"This is yet another important and exciting step for the City of Milwaukee and the streetcar. The momentum keeps building," said Mayor Tom Barrett. "We're thrilled to have Potawatomi Hotel & Casino as our partner in moving Milwaukee forward."
Currently under construction, the streetcar's Phase 1 line is expected to begin service in fall 2018, with a Lakefront Line to follow in coordination with the construction of The Couture development in 2019.
"The Forest County Potawatomi have committed to investing in Milwaukee. Like our recently announced hotel expansion, this is one more example of that commitment," said Potawatomi Hotel & Casino Chief Operating Officer Rodney Ferguson. "As Wisconsin's most visited entertainment destination, we are proud to have our brand aligned with The Hop streetcar brand."
The name "The Hop" was developed as part of a branding process conducted in 2016 with the help of a community input panel. The city hopes the name "The Hop" will become part of the local vernacular, emphasizing that destinations are just a quick hop away.
According to Paul Upchurch, president & CEO of VISIT Milwaukee, "VISIT Milwaukee is grateful to Potawatomi Hotel & Casino for its investment in The Hop and in the City of Milwaukee. The Forest County Potawatomi continue to be a major supporter and contributor to our community through charitable work, sponsorships, and investments in our infrastructure and in our citizens. We are especially pleased to learn that through their generosity, all riders will receive free admission for the first 12 months. This makes getting around so much easier for residents and visitors. The Hop is another great reason to live, work, and play in Milwaukee."