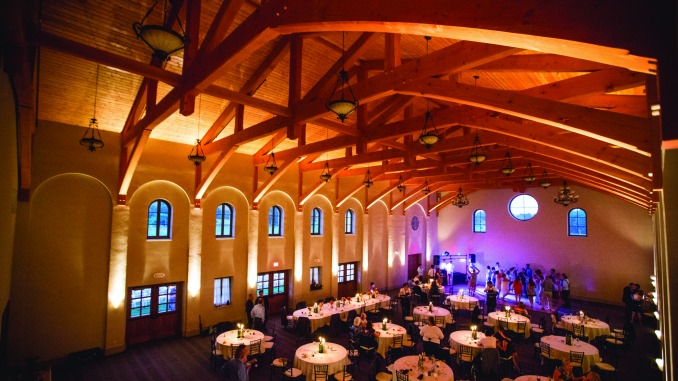 Posh Places: Check out these Beautiful Venues
By Kristine Hansen
Ballrooms can be blah and private rooms in restaurants often fall short in creative ambiance. But across Wisconsin you'll find plenty of unique venues to host a meeting or event, from an Italian-style villa at a winery near the Great River Road to a contemporary space in downtown Milwaukee with a nightclub-vibe and its own light show. Art museums, too, offer intimate venues in veritable jewel-box spaces with an all-white minimalist décor and lots of natural lighting. Here are some suggestions for unique spaces that will wow your guests.
Open for nearly three years, this former nightclub can host 130 for a sit-down dinner or an additional 50 for a walk-around reception. Lights spin through the color wheel and bounce off custom-built archways and ceilings crafted from salvaged wood. Holiday parties and weeknight events are most popular. Because Surg Restaurant Group owns this space and Lucid Light Lounge next door, groups can utilize both venues in the same booking, as well as tack on in-house catering from its sibling restaurants (including the Asianthemed Umami Moto). "The lights are the main feature in that space," says events director Andrea Buboltz. "You don't have to do any work [with décor]. You can just come in." A group's logo can be woven into the lighting for a super-cool effect and a signature exclusive cocktail created by the mixologists. The Milwaukee Symphony Orchestra recently hosted 60 of its financial supporters at The Garden. Other groups that have utilized the space include Marquette University, Northwestern Mutual and Associated Bank.
This arts center on State Street in downtown Madison has many spaces that are ideal for corporate events—and can accommodate groups as small as 10 or as large as 1,500. The location attracts many meeting planners, says event services sales associate Kelly Kaepplinger, because attendees can easily take a walk or grab a meal during a break. Another bonus: on-site tech support due to the calendar of performances and shows that demand high-quality lighting and sound. In-house catering means one less vendor to work with.
"Quite a few annual meetings" are held here, says Kaepplinger, that fold in lunch or cocktails on the terrace. While the Capitol Theater (houses 1,000 for a conference or 200 for dinner, plus use of the lobby for a reception or sit-down dinner) is popular, reservations can only be made up to six weeks out, due to touring acts. "People have booked Capitol Theater and Overture Hall for award receptions, product launches, lectures and corporate or regional conferences," says Kaepplinger. One company rented Overture Hall (great for lectures, galas, speakers and conferences, with space for 300 to 400), for a casino-themed holiday party, bringing in slot machines, poker tables and craps tables.
Promenade Hall (accommodates 300 people thanks to retractable bleachers) and Promenade Lounge (small workshop, annual meeting or sit-down dinner for 35) are both solid options. Kaepplinger has even seen groups host a pre-show reception in Promenade Lounge before heading into Capitol Theater as a group. "We are a great location for companies to take out their clients and not only impress them but show them they appreciate their business," says Kaepplinger.
Not far from the stunningly beautiful Great River Road, this winery's villa space has long been a desired location for brides on their wedding day. Owner Julianne Dahlen also markets to corporate groups. Open only since 2012—the year the winery and event spaces debuted—the vibe makes attendees feel like they're in the Tuscan countryside. "The buildings are meant to resemble a village square," says Dahlen, "not like what you'd see in Wisconsin." She adds, "The idea, from a business perspective, is to create a spot that might inspire some creativity." There's a café, piazza and fountain. Two buildings are for rent: a stone building with its "antique French bar" for cocktails, says Dahlen, and Great Hall, perfect for a dinner (up to 320) or seminar. Even the covered courtyard can function as a breakout space. Many groups like the Vat Room, which is separated from the wine-production area (with its five large 500-gallon vats from Italy) by a glass wall. "Very often, when people rent that space, they combine it with a winery tour," says Dahlen. About 100 can be seated in the Vat Room for dinner, more if it's a cocktail reception. The Vineyard Pavilion is an open-air, two-story space within a Roman-looking exterior and can hold 300.
It's not difficult to miss this modern building in downtown West Bend, snug on the banks of the Milwaukee River. The 2013 opening in its new location has breathed new life into the arts institution. During non-museum hours, groups can rent the sun-lit contemporary Atrium—including the Main Atrium, upper landing, balcony and State Gallery—for events lasting until 11:30 p.m. Because the museum closes at 5 p.m., there's an entire evening to work with. Its all-white space is the perfect canvas to create an event. "It's that simple elegance a lot of people feel when they come in. When you add floral or bright colored fabrics, it doesn't have anything to compete with it," says private-events coordinator Kerry Conway. Around 150 people can be seated comfortably in the Atrium for dinner, and the space can hold around 200 for cocktails. Like at the Overture Center for the Arts, guests can break away from the event to explore the galleries, an added bonus for meeting planners. Groups that have used the Atrium space for holiday parties include Froedtert's Surgery Center and Rytec Corporation.
College campuses are often untapped potential when it comes to meeting space because unless you are an alum, you might not know these spaces exist. The 2,500-square-foot Grand Foyer at Weidner Center for the Performing Arts—on the UW-Green Bay campus—boasts a vibrant glass chandelier designed by the famed Dale Chihuly paired with two contemporary paintings of Wisconsin hardwoods by Rodger Bechtold. Also in the space are oil-on-aluminum paintings by Mai Wynn Schantz depicting the Boundary Waters in Minnesota. Three-story windows on one wall bring in natural lighting or, if it's evening, the soft glow of a dark night. Around 180 people can fit comfortably in this space at a sit-down dinner, with room for up to 500 if it's a standing reception with cocktails.