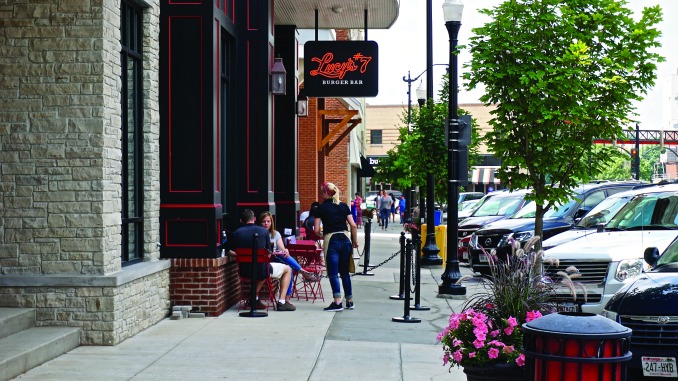 Destination: Janesville & Beloit
06/30/2017
By Melanie Radzicki McManus
Just 13 miles of concrete separate Janesville and Beloit, two mid-sized cities located just over the border with Illinois, in south central Wisconsin. Such proximity could breed intense competition. Instead, the two municipalities work well together, playing off each other's strengths—especially when it comes to meetings and conferences.
"It's incredibly valuable to have someone so close who can complement you," says Christine Rebout, executive director of the Janesville Area Convention & Visitors Bureau. "And [Beloit is] such a great partner.
When we need something, whether more beds or an amenity, they always say yes. We always have each other's back."
The two cities' complementarity is easily seen. Janesville shines because it's home to the Pontiac Convention Center, funky Armory meeting space and the Rotary Botanical Gardens. Beloit boasts stately, historic Beloit College; Ironworks, a boutique hotel; and, coming in 2019, the $38 million Powerhouse, a college facility that will offer public meeting space. Both also provide the invaluable convenience of being snugged against I-90/39, meaning easy access for attendees coming from any direction.
So which site is best for you and your group?
Janesville's Jewels
Rebout says that while Janesville can handle large conferences of 500 or more, they're especially suited to serving groups of 200 or less. "That's our sweet spot," she says. Such groups can easily be accommodated at the state-of-the-art Pontiac Convention Center.
The convention center sits just west of I-90/39 and offers more than 10,000 square feet of space spread over five rooms, plus catering for up to 1,000 guests. The spacious Grand Room includes a raised stage, sound room and wood floors, with seating for 600 at tables and up to 1,000 theater-style. The Baby Grand, which also incorporates the raised stage and sound room, serves 400600, while the Regal, Royal and Council rooms are perfect for smaller groups that range from 50 to 300.
Groups looking for a site that's a little more unusual often opt for the Rotary Botanical Gardens. Sitting less than one mile from I-90/39, the 20-acre nonprofit offers four individual rooms (each is just under 600 square feet) that can be combined to create space for a larger event. Its spacious atrium offers spectacular views of the 24-plus gardens, plus direct access.
Meetings here may include guided garden tours; the gardens are 95 percent accessible. And that's a great thing, because the facility includes stunning Japanese, French Formal, English Cottage and Italian gardens; a children's garden; burbling fountains; colorful sculptures; and a koi pond. If you want to meet al fresco, that's fine, too. The Reception Garden is a perfect spot for stimulating creativity and enjoying the outdoors.
Over at The Armory, attendees will be wowed by the brickwork, decorative iron and terrazzo floors found in this 1930 building, listed on the National Register of Historic Places. Local soldiers trained for WWII at the armory; it was a mustering center for those deployed to the Philippines in 1941. Today, the facility offers meeting and event spaces for groups of a dozen up to more than 350.
In the airy Drill Hall, for example, you can seat 100 to 500 at square or round tables. The Bunker Lounge, famed for its shining copper bar, can be used along with the Drill Hall or as a cozy, stand-alone venue. Upstairs, the Lieutenant's Quarters is perfect for intimate gatherings of up to 52. If your group is a tad larger, an alcove across the hall can be utilized to incorporate 20 more. Bonus: It contains a private bar.
When meetings are over for the day, guests are easily accommodated at hotels like the Holiday Inn Express, which also contains meeting space for 750 at the facility's Janesville Conference Center, located on the main level. And there's plenty to do after hours, too. Rebout quickly ticks off the botanical gardens, downtown shopping, antiquing, the Lincoln-Tallman House Museum and the city's Robert O Cook Memorial Arboretum, a 160-acre wooded wonderland laced with hiking, skiing and snowshoeing trails. The Ice Age National Scenic Trail also makes a 10.4-mile swoop through the city, tracing part of the scenic Rock River.
Despite all of these amenities, Rebout says the best reason to hold a meeting here is that every group is warmly welcomed and well treated. "When a group comes to town, everyone knows about it," she says. "You're not one of seven groups in town that day. We know you're here, you're important, you're special."
Beloit's Boastings
When groups meet in Beloit, they're typically blown away by the restaurant scene. "We get a lot of comments about how nice people are here, but the thing attendees are most surprised about is our food," says Matt Bosen, director of sales and servicing at Visit Beloit. "We have only 37,000 residents, but we have a long list of one-of-a-kind, locally owned restaurants. And they have really good food, and really good service."
Places include Clara Bo and Gatsby Wine Bar, where you'll find dishes like sweet chili calamari fries, sweet potato cannelloni and Thai grouper satay, as well as Bushel & Peck's—here you can nosh on an apple-and-Gouda grilled cheese sandwich or an order of fried Wisconsin cheese curds with peach jalapeño beer mustard.
The city is also garnering much attention for its revitalized downtown, which includes plenty of shops, galleries and, yes, more restaurants. Plus you'll find Riverside Park, a 23acre gem along the sparkling Rock River. The park features a 3.5-mile hiking/biking path, paddleboats and live music Friday nights in the summer.
Of course, meetings are mainly for business. And Beloit has that covered, too. The Garden Hotel and Conference Center is technically in South Beloit, a city just across the border in Illinois. But the two cities often act as one. That hotel has about 159 rooms and 11,000 square feet of flexible meeting space, which enables small groups of 10 on up to conferences of 700 to meet with ease. In Beloit proper, its 50,000-square-foot Eclipse Center can host groups of 25 to 1,000, with space for 700 at a seated dinner.
Because Beloit does not have a convention center with a hotel—yet—its sweet spot for conferences is also in the 200- to 250-person range, say Bosen and Stacey Bodnar, Visit Beloit's director of marketing and public relations.
The smaller groups that fit at the Ironworks Hotel rave about the industrial-chic boutique hotel, which sits right on the Rock River in downtown Beloit. The 54-bedroom hotel, birthed from the former Beloit Iron Works, has 3,300 square feet of meeting space and can accommodate about 200. Board meetings work especially well here, says Bosen.
And then there's historic Beloit College, Wisconsin's oldest, continually operating college. Historically, the college only opened its doors to meetings and conferences during the summer, when students were not on campus. But that's changing, says Bosen. One reason is due to the Powerhouse, an exciting project still in progress.
Created from the old Blackhawk Generating Station, it sits across the street from the campus alongside the Rock River. When finished, the Powerhouse will be a 130,000-square-foot student center that includes a union, recreation center and athletics facility. It will also contain multiple meeting spaces, including one with theater-style seating, plus a banquet hall. In addition, the Powerhouse will boast outdoor decks cantilevered over the Rock River.
"People who have never been here, or haven't been here for many years, sometimes have a vision of Beloit as a rundown city," says Bosen. "When they come here, they're surprised at our renaissance."
And the renaissance isn't over. Coming this fall: G5 Brewing Company, a craft brewery and restaurant. Cheers to that!