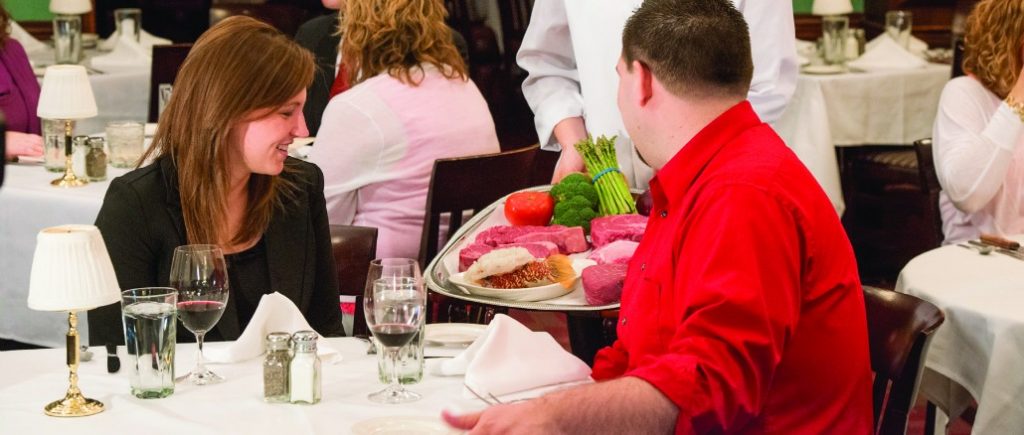 Eat and Meet in the Fox Cities
04/05/2017
By Kristine Hansen
From steaks and martinis to fajitas and margaritas, the Fox Cities — towns and cities like Appleton, Neenah and Menasha, along the Fox River in northeast Wisconsin — is filled with private dining spaces ideal for groups who either want to hash out a new business direction or bring together sales teams for a meeting. For the perfect meeting space, not only is a separate area needed but so are audio-visual capabilities, memorable food and impeccable service.
At Vince Lombardi's Steakhouse — tucked into the Radisson Paper Valley Hotel in downtown Appleton, across from the Fox Cities Performing Arts Center and near Lawrence University — a handful of meeting spaces are just off the main dining room, separated by French doors. Audio-visual equipment can be borrowed for meetings. This is the only restaurant in the country devoted to Lombardi's life and coaching career (he coached the Green Bay Packers from 1959 to 1969). In the middle of the dining room, surrounded by leather tufted sofas, green walls and photos of Lombardi is a replica Super Bowl I trophy, now dubbed the Lombardi trophy and presented to Super Bowl champion teams. In one of the rooms, attendees can even sit under Lombardi's hand-drawn plays, which are framed. In another — the "Super Bowl" room, which is the largest and can hold up to 40 people — hardback vintage books line built-ins and the space feels more like a private library, but not without photos of Lombardi on the walls, of course. Many of Lombardi's personal items — from luggage tags to trophies — are on display in back-lit glass cases, and curated by his two children.
Five set menus for groups span either three or four courses (plus sides), each one hearty and gourmet, such as a 14-ounce New York Strip dry aged, preceded by broiled scallop and bacon, and ending with a choice of strawberry shortcake, cheesecake or the restaurant's signature "tuxedo bombe" (chocolate cake filled with chocolate mousses). Because all NFL visiting sports teams stay at the hotel when playing at Lambeau Field, and often dine at the restaurant, the restaurant staff is skilled at working with groups. Wine lovers often seek out the hotel given its extensive 400 offerings, including a reserve wine list and a private-label wine.
And if you are planning any events at the soon-to-open Fox Cities Exhibition Center (scheduled to open this fall), then you will be just a skywalk away from the Radisson.
A sunny private dining space at Carmella's is where a mix of paper companies and pharmaceutical companies host meetings, says owner Kristen DeFranza. Its unassuming storefront in a shopping center next to Fox River Mall in Appleton has little indication for what's behind the hostess station: plastered golden-yellow walls, and the aroma of sautéed garlic and tomatoes. (The restaurant even sells a line of its bottled sauces.) In the entry way, a wall of the DeFranzas' framed black-and-white family photos tell a story that began just north of New York City, with an Italian restaurant that dates back to the 1920s. The DeFranza family opened Carmella's in 2009, named for Kristen's grandmother. Many of the recipes are hers.
"We grew up living above the (New York) restaurant," recalls DeFranza, whose mother is from northern Wisconsin and met her father when he attended college in Superior. "She was amazing — she cooked in the restaurant until she was 70."
Relationships with farmers results in many locally sourced ingredients, everything from herbs to pork chops. Some of the most popular dishes, says DeFranza, are pappardelle shrimp scampi and peppercorn-dusted sea scallops. All of the pastas are made in-house. A limited lunch or dinner menu for groups of at least 16 people features six items, and "most events do a dessert sampler platter," says DeFranza. Up to 27 people can fit into the private room, which even has its own bar, should the group want to start with cocktails and appetizers.
Growing up in a family business (a supper-club-type restaurant called Chef Bill's) inspired Mark Dougherty to take it over when he graduated from college in the late 1980s. Mark's East Side is in Appleton and hosts groups for lunch and dinner (Monday through Thursday only) in a room that is completely separate from the other dining areas. Between 20 and 42 people can comfortably fit in the space, which features an aquarium. The menu doesn't scrimp on specialties. Groups can order off of limited menus that include customer favorites, such as a 14-ounce ribeye or Weiner Schnitzel. Most entrees come with a potato choice; all are brought out with a choice of soup or salad. Bar drinks dip back into prior decades with martinis and the after-dinner Pink Squirrel or Grasshopper.
A favorite lunch spot for locals, as well as after-work drinks and apps, Osorio's Latin Fusion — open since 2012 in Appleton — culls Latin nations for dishes like chicken tequila, tomatillo shrimp scampi and lemon-caper pork medallions, moving beyond typical Mexican fare. The elegant décor includes high ceilings, hanging glass pendant lights, a great wine list and Mayan art. In "the fireplace room," events for groups take on a cozy vibe with a fireplace, built-in wine racks and bookshelves, and a chandelier. On the catering menu for dinner are options ranging from a meat- and fishcentric buffet (up to three entrees per person) that incorporates two side dishes as well as the option to add on salads; or a build-your-own taco or nachos bar. Lunch can skew lighter with a buffet featuring up to three traditional Mexican dishes, like carnitas, enchiladas and taquitos.
For a casual daytime event, Zuppas' Green Room in nearby Neenah is ideal. As the name suggests, the café is beloved for its soups, but the pastries and salads are also delicious and sought out by locals. Whether it's networking over coffee and muffins, or a power-lunch meeting, the Business Breakfast and Lunch packages provide a lot of flexibility, offering spreads of fresh-baked scones, fresh fruit and warm breakfast strata (plus meats and potatoes) for the morning, and inventive salads (such as chicken-gyro pasta salad), wraps, green salads and hot entrees (from chicken marsala to beef stroganoff) for lunch.