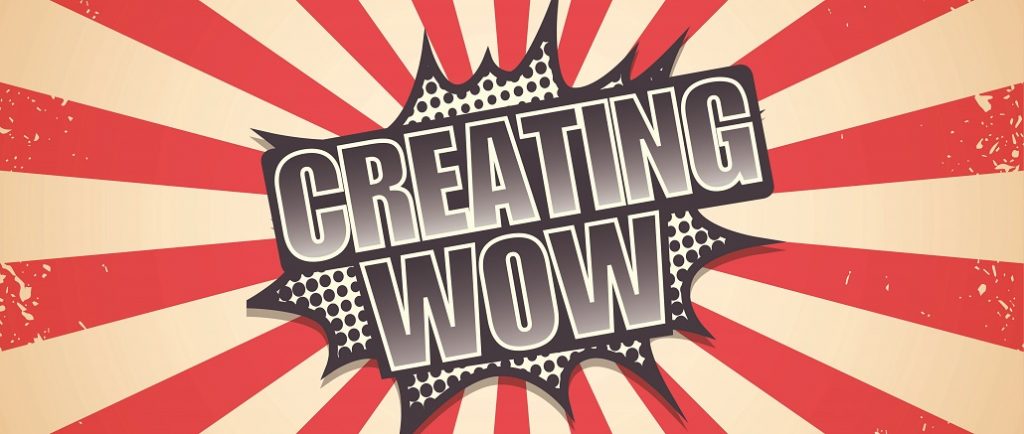 Creating WOW: Tips on making your event memorable
By Maura Keller
Gone are the days of corporate retreats filled with dry meetings and little time for fun. Now, hotels and resorts around the state are catering to meeting and event planners who are seeking unique experiences and meeting breaks that are designed to embrace the destination, truly showcase world-class amenities, ignite inspiration and make a memorable impact on attendees.
Memorable Experiences
What meeting or events have been the most successful for you? Are they the "cookie cutter" productions that offer the same food, the same format and the same venue year after year? Or are the events that receive the best commendations the ones that truly "wow" attendees? With a few creative twists, fun elements and unique experiences, you can plan an event that attendees will remember long after it ends.
"People are offered many opportunities to participate in conferences, whether it be educational, experiential or even mandatory," says Theresa Wolf, senior events manager at the InterContinental Hotel Milwaukee. "While attending these conferences, employees can often be concerned about what they may be missing during a work day. However, an event that leaves the guest feeling refreshed and rejuvenated is one that is well worth taking the time to attend."
On top of that, creating memories at these events, either through the content learned, food and beverages enjoyed, or other "wows" experienced allows the guest to travel back to that time during potentially grueling work days. The bonus of planning a memorable meeting is building reputation. When attendees expect a meeting to be "cool," energizing and remarkable, they're likely to return year after year.
Adrienne Koclanis, director of events at The Pfister Hotel in Milwaukee, stresses that expectations also have dramatically increased. The average attendee has a greater knowledge of quality food and beverage offerings and AV production, and that attendee is looking for these enhanced experiences in the events he or she attends.
"Especially for conferences that have a high registration fee, people expect a highend experience, Koclanis says. "This puts more pressure on the meeting planning industry to keep up with current trends and think outside of the box to really wow the individual. Moreover, everything you plan should ensure that the attendee's interests are top of mind. Even if you have the most elaborate food and beverage displays or the latest high-tech presentation, the experience should center around what the attendees are looking for."
Stacey Lucas, sales manager, Paloma Resort Properties, which include The Ridge Hotel, Geneva National and the Cove of Lake Geneva, points out that their clients are moving away from the traditional U-shape and classroom set-ups in exchange for think-tank room designs.
"We lay out creative thinking environments — spaces where people can let their minds roam outside the box," Lucas says. "A truly memorable event requires great creativity and flexibility. We treat each client individually and truly listen to what they want to gain from their event."
For instance, at Geneva National, they recently recreated a Top Chef competition as a teambuilding exercise for one of their corporate clients. The resort's executive chef set the event in motion, splitting the group into two teams and providing a dish to be recreated.
"Embracing a popular trend that is familiar and fun – and pulling it off with an amazing staff – made all the difference in creating a memorable event," Lucas says.
A great example of a recent unique and memorable event is the Wisconsin Society of Association Executives Awards Celebration that was part of the 2016 Innovation Summit. AMPED Association Management helped plan the event and took attendees offsite to the Milwaukee Public Museum for a brief awards presentation and strolling reception.
"To maximize our budget, we chose to skip presentation slides to reduce audio visual costs and had inexpensive pop up banners made of each award winner to display during the awards ceremony," says Amanda Safa, meetings manager at AMPED.
The banners not only served as decoration for the event but also nice gifts for the award winners. After the quick ceremony, attendees were transported back to a fall evening in Milwaukee at the turn of the 19th century as they enjoyed hors d'oeuvres and cocktails through the Streets of Old Milwaukee.
"We couldn't have pulled off the event without the support from Visit Milwaukee as well as our partnership with the museum," Safa says. "'Wow' elements don't necessarily have to break your budget. For the event at the Milwaukee Public Museum, we put our heads together to come up with a solution to save on AV costs and came up with a fun element that added to our overall event experience. And don't forget to work with your venue or city partners to come up with 'wow' elements. They've seen and been involved with tons of events and can give you great ideas that work well in their space."
Today's smart meeting planners have figured out that they have to compete with the other things in the busy lives of potential attendees. Doing things the way they've always been done stopped working long ago. If attendees are going to commit to everything that goes into attending a meeting, it has to provide something special that they can't get anywhere else. You need to pretend that you are competing with the theater, rock concerts and Disney World, because you are.
Jason Kotecki, chief creative guy at Escape Adulthood, an event planning company, stresses that it takes a lot of work to put on an event.
Each year, Kotecki puts on the Escape Adulthood Summit in Wisconsin. Part conference, part retreat, part mastermind group, it's a one-of-a-kind event designed for people instilled with the soaring spirit of childhood. It's attended by people from all over the country, and over half of the attendees have been to the event previously.
Kotecki suggests some unique elements that can make a lasting impression on attendees:
Have fun with name tags. When an attendee registers, ask them to describe themselves with three short phrases that don't necessarily have anything to do with their profession. For example, a person's nametag might read, "Chocolate Lover, Harry Potter Fan, Marathon Runner."
"This serves as an amazing ice breaker throughout the whole conference, as it instantly gives people something to talk about," Kotecki says. "Another conference I attended had a Rock & Roll theme and listed the person's favorite band, which was also well-received."
Instead of always relying on "experts" to provide content, Kotecki has had great success tapping into the genius of the whole group. "For instance, we throw out topics on common issues or challenges and invite anyone to share ideas on what's worked for them," Kotecki says. "This requires a skilled facilitator, but sometimes the best takeaway someone gets from a conference comes from the person who was sitting right next to them.
As far as unique locations go, consider wedding barns, botanical gardens, zoos and even children's museums. Many are well equipped to accommodate meetings of various sizes.
Have a line item in your budget for "magic." These are for the hare-brained ideas you come up with that help take things to the next level. "One year we surprised everyone with an old-fashioned ice cream truck, complete with the retro music," Kotecki says. "It was so fun to see 40- and 50-year-olds transform into fiveyears-olds as they struggled to decide which ice cream treat to pick. Another year, while using a superhero theme, we hired actors dressed up as popular superheroes who posed for photos with attendees. That same year, we bought everyone a customdesigned superhero cape and revealed them at the end as a surprise."
Kotecki adds, "Above all, experiment with doing things differently than how you've always done them. They might not all work, but it's the only way to figure out what does."
It's In the Details
Many of today's conferences and meetings are usually organized to only allow time to deliver information to attendees. "This doesn't allow any of it to stick," Kotecki says. "Carve out time and space for people to digest or discuss what they learned.
And remember, you get what you pay for with speakers. A lot of people try and save money on this budget and end up paying more for the hotel coffee and danishes than they do on speakers. Bad idea.
"In the long run, people don't talk about an event because they had plentiful coffee and danishes," Kotecki says.
Wolf at the InterContinental Hotel Milwaukee says that a motivational keynote speaker who the attendees can relate to is extremely important in kicking off a successful event.
"When breakout groups are a necessary component of an event it needs to be one where there is some type of team building experience that relates in the learning process," Wolf says. "There is nothing worse than moving from meeting room to meeting room, only to sit back and listen without having any input."
Also, if space allows, having more creative seating options or mixing seating options is a subtle way to create a more unique experience. This can be as simple as crescent rounds mixed with seated cocktail tables and mini conference tables, or as elaborate as adding soft seating and high cocktail rounds with stools in the rear of the room. The key is creating an unexpected moment, as well as an atmosphere of conversation or comfort.
Of course, the food and beverage served are also vitally important in making an event memorable. Depending on budget, chefs can create a primarily, or possibly entirely, locally sourced menu for the event. Otherwise, they can simply hone in on a few key ingredients.
"Some of our favorite break items highlight Wisconsin and Milwaukee. You can have cheese displays and brat sliders to celebrate the Dairy State, or a specialty coffee bar with a barista on hand to honor the coffee side of the Brew City," Koclanis says. "Both are something a little more substantial to help guests feel energized. We all know that's especially important for an afternoon break when most people feel the 2 p.m. slump."
One way they incorporate local food for smaller meetings at the InterContinental Milwaukee located in downtown Milwaukee, is with Table75, a uniquely tailored culinary experience that uses only ingredients sourced from within 75 miles of Milwaukee whenever possible. The combination of easy customizability with fresh local ingredients transforms the meeting into a culinary adventure for our guests.
The Pfister Hotel also incorporates fresh local ingredients with a unique food experience. The hotel's #FoodArt adds the fun of cooking lessons with social media and gives meeting attendees the chance to learn about the art of styling a beautiful plate of food. #FoodArt participants then create their own masterpieces, and once complete, the plates are photographed and attendees can take the memories (and photos) home.
"Remember, that the attendees are humans who like to have fun, no matter what profession they are in. It's easy to forget that it's entirely possible to take one's work seriously without having to take oneself seriously. Part of creating a memorable experience is tapping into people's emotions, and that can easily be achieved through fun. Think about how you can surprise people, or make them wonder, laugh or even cry. That's how you get the experience to stick."