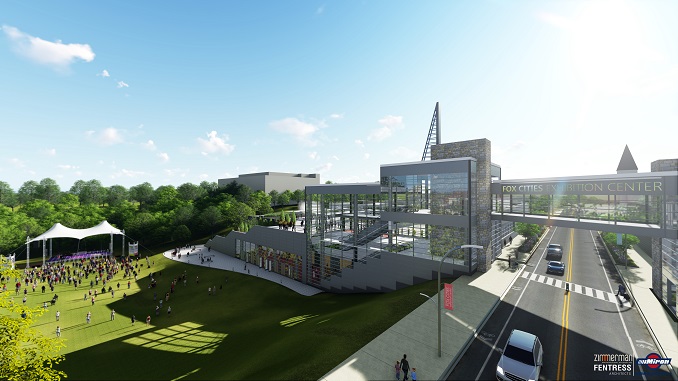 We're Building Something More
The Fox Cities Exhibition Center in Downtown Appleton is northeast Wisconsin's newest destination for conventions, trade shows, banquets, meetings and entertainment, all with the highest level of service to event planners and their attendees. Designed to be as flexible as it is attractive, the Fox Cities Exhibition Center can accommodate your event's unique needs and is set to open in fall of 2017.
After many years of planning, Appleton and nine other communities in the Fox Valley came together to agree to the design of this new building put forth by Michael Winters of Fentress Architects. Michael Winters is credited with another unique public structure, the Denver International Airport. His design incorporates many elements of the Fox Valley with the signature element being an 82-foot-tall illuminated tower that symbolizes the history in the area of having the world's first hydroelectric power plant. The colors of the tower will be programmed to match the color scheme of groups using the facility. The Fox Cities Exhibition Center will have the main exhibition area below street level with a wall of glass looking out onto Jones Park.
The Fox Cities Exhibition Center offers 38,000+ square feet of flexible space, an additional 17,000-square-foot outdoor plaza and unfettered access to outdoor programming in Jones Park. The exhibition hall will accommodate up to 200 exhibitors and more when incorporating the pre-function space with it.
The Center is connected to the Radisson Paper Valley Hotel, which offers an additional 38,000 square feet of meeting, banquet and break-out space and 388 sleeping rooms. The Radisson Paper Valley staff will maintain the bookings and management of the Fox Cities Exhibition Center.
Please visit our website, www.fcexhibitioncenter.com, to see floor plans for the facility and complete an online event-booking form. We look forward to working with you to discuss the best options for all your event needs at the Fox Cities Exhibition Center.