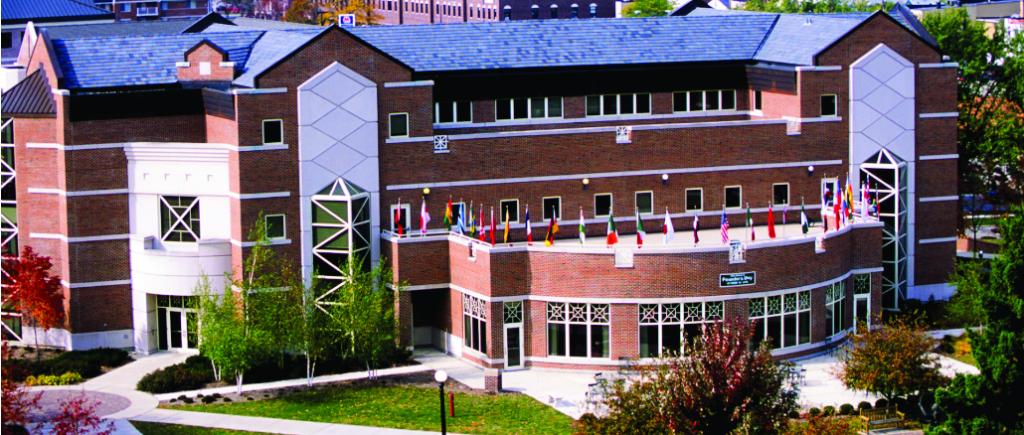 Universities offer unique venues for your next event
By Maura Keller | Photo: Bemis Conference Center

If you visit a university or college campus on any weeknight, you may notice many people walking in stride with book bags slung over their shoulders and laptop computers in hand. Although some may be heading to class, others are heading to meetings and events held at venues throughout campus. Ranging from high-tech theaters to intimate lakeside meeting spaces, many colleges and universities offer a variety of accommodations for your next event.
Lawrence University, Appleton
Nearly 20 years in the making, the $35 million, 107,000-square-foot Warch Campus Center at Lawrence University opened in September 2009. As Angie Black, with conference and event services at Lawrence University, explains, the building embraces the beauty of the surrounding Fox River with its open spaces and high ceilings, amazing views, natural stone, green roof and access to a river walk.
Within a 10-minute walk from downtown Appleton, the Warch Campus Center offers 10 informal and formal gathering spaces for groups of all sizes. Designed for versatility, each room provides flexible setups depending on individual needs. Onsite catering managers and chefs, paired with the superb capabilities of Bon Appétit Management Company, ensure all food, beverage and bar details are expertly managed.
Two of Lawrence University's signature spaces include the Somerset Room and the Nathan Marsh Pusey Room, both of which provide an elegant setting for meetings or business receptions. The university also offers an off-campus 37,0000-square-foot lodge near the picturesque Door County community of Baileys Harbor. Björklunden accommodates a wide variety of seminars, meetings and special events. It offers 22 guest rooms, sleeping 44 to 104 people.
"Lawrence University facilities are utilized by individuals, community organizations, and local and national businesses for appropriate public and private functions, meetings, conferences, concerts and performances, residential and day summer camps, summits and other events throughout the year," Black says.
Marquette University, Milwaukee
Located in the heart of Milwaukee, Marquette University offers a plethora of meeting facilities. Whether it's space for large groups, small groups, formal meetings, casual gatherings or access to classrooms and lecture halls — Marquette has something for everyone.
"Groups do not need to be affiliated with the university to utilize campus facilities," says Annette L. Conrad, associate director of event management at Marquette University. However, Conrad does add, "the purpose/content of use of space by the non-affiliated group must be consistent and/or complement the university's mission and guiding values."
From the large AMU Ballroom, which is divisible into five separate spaces, to the Raynor Library Conference Center to the Varsity Theatre, Marquette offers venue options aplenty. Audiovisual and other specialty equipment is available for rental, depending on your specific needs. And catering/beverage services can be arranged through the university partner Sodexo.
St. Norbert College, DePere
Picturesque St. Norbert College is home to the Bemis Conference Center, a stateof-the-art facility that offers a wide range of facilities and services, including the Fort Howard Theater, which seats 200; six multipurpose meeting rooms, an expansive dining room with dividers and a spacious board room, to name a few. The Olejniczak Board Room also offers interactive video conferencing to help meeting planners streamline an event's reach.
With more than 13,000 square feet of meeting and banquet space, and the ability to accommodate up to 300 people, St. Norbert College Conference and Catering can meet the needs of virtually any event — including catered events. From evening soirees to working breakfasts, the St. Norbert catering team can help plan the menu that works best for each event.
"We host a lot of off-campus groups ranging from convention groups, conferences, weddings, corporate receptions, banquets and meetings in general," says Patrick Olejniczak, Kress Inn & Bemis Conference Center at St. Norbert College. "We can host meetings/groups from 2 to 300 guests depending upon the meeting space. Our main conference center is the Bemis Conference Center, and is across the street from our on-campus 46-room hotel, the Kress Inn, which is also open to the public."
Specifically, all suites at the Kress Inn offer the amenities that guests have come to expect, including complimentary wired and wireless internet, microwave, refrigerator, coffeemaker, iron and ironing board, hair dryer, spacious workspace, cable television with HBO and two-line guest room telephones.
UW-Madison
Located along the beautiful Lake Mendota shoreline, The Pyle Center, a complete conference center, and The Lowell Center, a hotel with additional banquet and meeting space, are two popular venues within the UW Extension Conference Centers system. These sister venues provide meeting space and lodging in the heart of Madison. In addition to complete conferencing service, both venues offers full on-site catering, downtown Madison lodging and campus parking.
While those within the University of Wisconsin System are eligible to use either venue, the spaces are also available to local, regional, federal and State of Wisconsin government agencies, educational groups and qualified nonprofit organizations.
Both The Lowell Center and The Pyle Center offer fully accessible conference rooms, small group breakout rooms, dining areas, lounges and reception spaces. The Pyle Center boasts more than 135,000 square feet of meeting space, including nearly 30 rooms of varying sizes and configurations. In addition to a 95-seat auditorium, The Pyle Center features reception areas for up to 300 participants, and a rooftop terrace for receptions of up to 400 participants.
Technologically focused planners will enjoy The Pyle Center's media offerings. From videoconferencing, audioconferencing, webconferencing, webcasting, streaming media, and digital media production, the venue's experienced staff can connect people in the room, across the campus and beyond.
For meeting event space and housing under one roof, check out The Lowell Center, a seven-story conference center and lodging facility with the capacity to host events with audiences ranging from 10 to 400 individuals. In addition to 137 overnight guest rooms, The Lowell Center has seven meeting and conference rooms, two reception areas, and an expansive dining room.  Best of all, The Lowell Center is located near State Street, one of Madison's most vibrant areas.
George Williams College of Aurora University, Williams Bay
If your idea of the perfect meeting venue is combining nature with technology, you'll be thrilled to experience The Conference Center at George Williams College.
Truly a lakeside retreat, George Williams College features 137 acres of lakefront and wood landscapes. Serene, yet sophisticated, The Conference Center is open to businesses, educational institutions, religious groups and other institutions.
Located near Lake Geneva in Williams Bay, The Conference Center is in close proximity to Chicago and Milwaukee. From a spacious lakeside pavilion for outdoor meetings to cruises on Geneva Lake to more conventional meeting rooms, the facility offers 22,000 square feet of flexible use space for meetings, events or activities.
And because all work and no play can make anyone dull, The Conference Center also features team building options, outdoor activities, lakeside bonfires, arranged cruises and golfing options.
The lodging options also abound on the George Williams College campus with lakefront rooms, as well as various lodges that can help attendees "get away from it all."