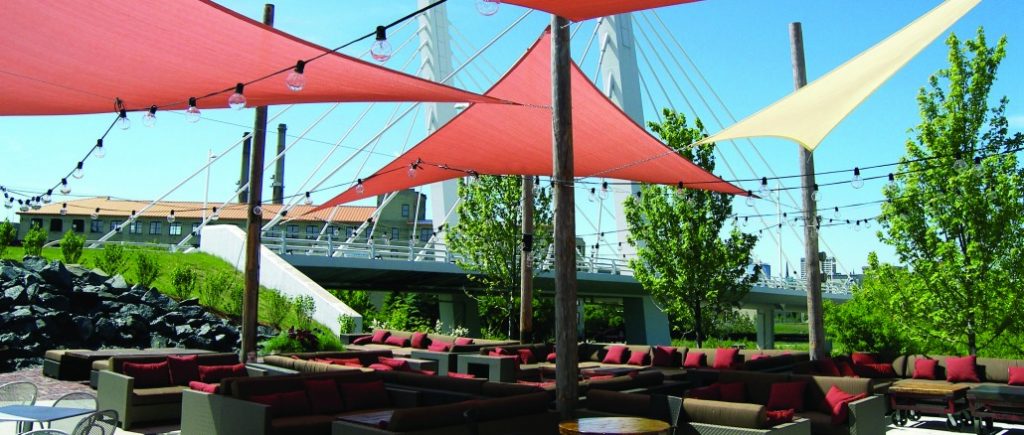 Break out of the traditional four walls to find unique outdoor spaces for your next gathering
By Shayna Mace | Photo Credit: Ironhorse Hotel

With spring comes the desire to get up and get out — outside, that is. Your next meeting or event needn't only be held indoors. Many hotels offer unique, scenic outdoor spaces that can host your next social hour or networking event. Consider one of the following gathering areas to liven up your next occasion.
Milwaukee: The Ironhorse Hotel
History reigns at this 109-year-old former mattress factory turned hotel. With a reclaimed and vintage feel to all of the interior spaces and loft-style guest rooms with exposed ductwork and brick walls, this boutique hotel certainly makes a statement for attendees.
Where to Meet: The hotel's 4,600-squarefoot outdoor Yard is a welcoming oasis in the urban landscape. It fits 150 to 200 people and the adjacent Pergola fits another 30 guests. It's the perfect area for cocktail receptions, networking or corporate events, says Valerie Casper, regional director of sales and marketing. Inside, the hotel has five customizable meeting spaces for board meetings and larger gatherings.
Where to Eat: The Library serves breakfast and grab-and-go options at communal tables for busy guests. Smyth (named after the blacksmith trade) is the hotel's signature restaurant and serves up dishes made of local seasonal ingredients. And for a post-meeting or convention happy hour? Try Branded, where attendees can nibble on bites and sip on handcrafted cocktails like the Tokyo Mule and the Untamed Manhattan.
Don't Miss: Guests can shop or eat in the nearby Historic Third Ward, gamble at Potawatomi Hotel & Casino, visit the Harley-Davidson Museum and have easy access to the convention center across the river.
Madison: The Graduate Madison
As home to the state's largest university, it's no surprise there's a boutique hotel that embraces Sconnie culture. The Graduate
Hotel brand is found in five other university towns (including Oxford, Miss. and Tempe, Ariz.) and these "well curated, well crafted" properties incorporate touches of their host city in the lobby and room décor.
Where to Meet: The Madison Blind is the hotel's seventh floor restaurant with a light, airy feel and floor-to-ceiling windows. Décor is duck hunting-influenced (the tappers have duck calls on them!) with a modern bent. Groups can rent out a portion of the space that holds 60 people or the entire restaurant. The beautiful rooftop terrace has views of the state capitol and Lake Mendota and can fit 45 guests.
Where to Eat: The aforementioned Madison Blind serves snacks, small plates and large plates with a modern comfort food theme as well as custom cocktails. Meeting planners are also welcome to use the restaurant's catering menu, too. In the hotel's lobby find Portage Pi, a casual café serving hand pies (similar to a calzone), breakfast, salads, pressed sandwiches and fresh-squeezed juices.
Don't Miss: Since it's in the heart of the UW-Madison campus, take a stroll through campus to relive collegiate memories, stop
over at the Memorial Union just blocks away (their famous outdoor terrace will have renovations complete in May), walk along State Street for shopping and good eats or pop up to the Capitol Square to tour the Capitol building.
Lake Geneva: Grand Geneva Resort
This jack-of-all-trades resort is certainly a destination for business and leisure travelers. With two golf courses, spa, pools, ski and snowboard park, indoor/outdoor water park and three restaurants there's a wealth of things to do here.
Where to Meet: One of the state's premier conference centers, the Grand Geneva has 62,000 square feet of function space to accommodate 10 to 1,500 guests. Find boardrooms, ballrooms and a large conference center. Two great outdoor gathering spaces include the 5,400-squarefoot outdoor pavilion overlooking the countryside and the Embers Terrace. Embers is a cozy outdoor patio with a long firepit, comfortable seating and features live music on Friday and Saturday nights. Guests can enjoy warm desserts and cocktails in a peaceful setting.
Where to Eat: The high-end Geneva ChopHouse, Italian-themed Ristorante Brissago and choice-heavy Grand Café ensure guests won't go hungry. Café Gelato is the perfect way to round off a meal with a cup of Starbucks coffee or scoop of gelato. Each of the resort's leisure areas have casual eateries too — in the golf course, ski area and pool. Custom catering menus can be pulled together for any special event.
Don't Miss: Explore Geneva Lake on the 20-mile Shore Path that circles the lake, or take a Lake Geneva Cruise Line boat cruise to view waterfront mansions. The downtown area has many wonderful shopping options, and be sure to stop for lunch at a waterside restaurant.
La Crosse: The Charmant Hotel
Like the Ironhorse Hotel, the Charmant is also a refurbished property — in this case, a renovated candy factory from 1898. The name comes from Charmant, a premium line of chocolates the factory produced. This bustling hotel has preserved architectural details of the original building — like maple wood flooring, wood beams and exposed brickwork.
Where to Meet: The hotel has two smaller meeting spaces, the Serenada and The Royal Crown, which accommodate 40 to 50 and 14 people, respectively. Small board meetings can also be held at the on-site The Restaurant as well. The property's shining star is the rooftop terrace, which holds up to 75 guests (standing) and offers views of the city. Canvas sails shield sunlight and gas-burning fireplaces keep the area warm at night. The bar serves signature cocktails, too.
Where to Eat: Visitors are in for a treat at the hotel's four drinking and dining spaces. The Lobby Bar & Lounge is a casual hangout serving regional craft and domestic beers as well as wine and cocktails. The beautiful Parlour functions as a coffee bar by day and cocktail hangout at night. Guests looking for a sit-down meal will enjoy The Restaurant's rustic French cuisine (escargots and steak frites, anyone?) served in an industrial-chic space. The rooftop terrace also serves woodfired pizzas baked in the outdoor oven.
Don't Miss: La Crosse has a lot to do — walk over a few blocks to 3rd or 4th Street and pop in any of the historic downtown storefronts and restaurants. Or walk across the street to Riverside Park to take in views of the Mississippi River — in warm weather visitors can even take an educational riverboat cruise. And the Pump House Regional Arts Center (a few minutes walk away) has shows and plays.
Marshfield: Hotel Marshfield
This boutique hotel was rebranded and renovated top to bottom two years ago. The fresh, modern décor lends the property an upscale feel. It's also a green hotel — guest keycards control guest room lighting and temperature when they leave the room and common area lighting dims after inactivity.
Where to Meet: The hotel can accommodate meetings and conferences from 12 up to 300 people. The outdoor courtyard with pool can
be equipped with a bar and boasts several seating areas and a fire pit for evening cocktail parties. For indoor space, two large ballrooms can be subdivided into three rooms or opened up for large presentations. Two smaller boardrooms are perfect for lunches and meetings.
Where to Eat: Libby McNeill's has Midwest comfort food with a twist. Pick up breakfast, lunch or dinner and eat in the comfortable lounge setting or nosh on the outdoor patio and grab a cocktail from the seasonal outdoor bar.
Don't Miss: Located within a mile of downtown Marshfield, walk to Central Avenue for dining and shopping. Wildwood Park & Zoo is a nice stroll and the Chestnut Center for the Arts is located in a historic church and has exhibitions, performances and even classes. The hotel is also near bike trails for outdoor fun.