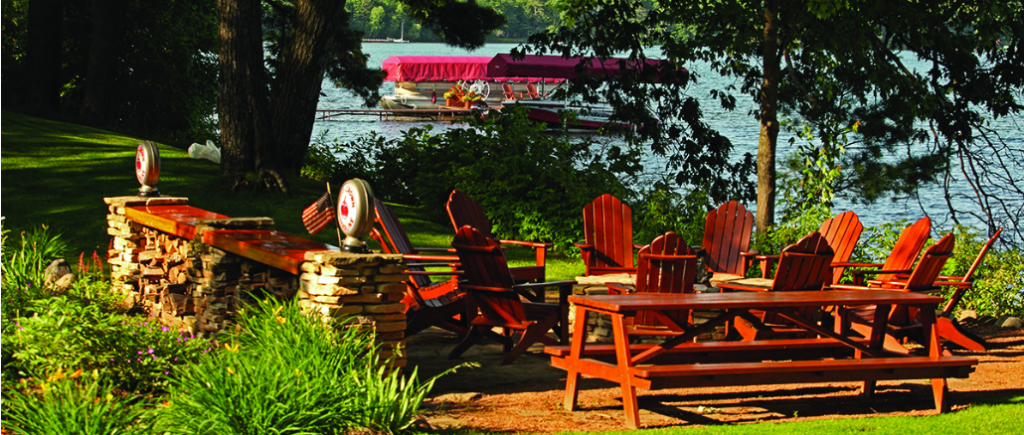 The Northwoods: Where small groups can disconnect from the office and get down to business
02/15/2017
By Melanie Radzicki McManus | Photo Credit: Red Crown

The rising sun sprinkles a handful of diamonds across the lake's placid surface. Nearby, the trees fill with songbirds, busily trilling joyful tunes that float lazily into the cool morning air. Yawning guests begin spilling out of their bedrooms and into the posh living room, drawn to its floor-to-vaulted-ceiling windows, which easily draw the picturesque outdoors inside. The rich smell of brewing coffee lures some into the kitchen, but only to quickly grab a steaming mug off the red-granite island before heading back into the living room to wake up with the dawn.
Hard to believe, but the guests enjoying this peaceful morning aren't on vacation. No, they are preparing for another day's work at Rondele Ranch, where they have gathered for a conference. Tucked into a scenic pocket of Wisconsin's Northwoods a dozen miles west of Rhinelander, the quiet, private facility is a meeting planner's dream locale.
Rondele consists of a sumptuously outfitted 10,000-square-foot Main Lodge, originally the private residence of Claude Bourguignon, cofounder of a successful cheese import and distribution company. The lodge sleeps 18, and its lower level features a business center with a conference room, breakout area, kitchenette and 70-inch screen. The property's adjacent Elk Lodge sleeps another eight, while the new Lakeside Lodge sleeps seven and has additional flexible meeting space. For groups requiring more sleeping accommodations, Rondele is happy to shuttle guests to area hotels a mere 15 minutes away. And a private chef is available to create meals to tempt all palates.
While business guests appreciate the ranch's tastefully appointed lodges, Rondele's beautiful, serene setting and the wealth of recreational opportunities it affords is a huge draw, too. The ranch sits on 500-plus privately owned acres, with thousands of acres of public land surrounding it. Guests have easy access to hiking, biking, trap shooting, hunting and golfing. Water-based activities include canoeing, kayaking, swimming and fishing; you can enjoy the latter on your choice of a 2.5-acre lake or Class I trout stream. A short trip off the ranch means a chance to try out jet skiing, pontoon cruises and waterskiing. In the winter, there are innumerable options for skiing, snowshoeing, snowmobiling and ice fishing.
Any of the above activities can be used for team-building activities, and specific packages will be developed in the future, says Wendy Van Dyke, Rondele's event coordinator. But the lack of formal teambuilding activities hasn't kept corporate guests away. "I'm currently working with three new groups on potential corporate retreats, as well as one group that is coming back this month for their third retreat," says Van Dyke. "It has been super busy here."
Wisconsin's Northwoods is typically lauded as the state's outdoor playground — and with good reason. An area stretching roughly 50,000 square miles and blanketing the state's top tier, it's a rich patchwork of forests, wetlands, grasslands and thousands of glacial lakes. What all of this equates to is an area perfectly suited for all things outdoors. In addition, the lack of a substantial population base means all of these activities can be enjoyed in quiet, stressfree surroundings.
But don't equate remoteness and the great outdoors strictly with vacationing. Everything that makes the Northwoods a perfect spot for your next vacay also makes it a wonderful, unique locale for business outings. Employees can quickly unplug from the office and its daily distractions in such a calm, inviting setting, and certainly more easily than if they were plopped in a big-city hotel thrumming with activity. Yet while the Northwoods is remote, it's not inaccessible; you can reach some portion of the territory within two to three hours from Milwaukee and Madison, and four to five from Chicago.
Some 20 miles north of Rondele Ranch is The Pointe Hotel & Suites in Minocqua, one of only a handful of lodging properties sitting right on Lake Minocqua. With 800 feet of lake frontage, every one of the 69 rooms sports a waterfront view and a private balcony or patio from which to take it in. The hotel features amenities such as an indoor pool, whirlpool and cedar sauna, plus a lakeside campfire patio and 220-foot lakefront pier. There's also a putting green; bicycle, kayak and canoe rentals; and snowmobile trail access right from the property. Perhaps best of all, it's a scant quarter-mile to downtown Minocqua, with its wealth of dining, shopping and other activities.
For meeting purposes, The Pointe boasts a conference center with 2,200 square feet of flexible meeting space that can seat up to 175. The center is accessible through the hotel. The 1,495-square-foot Top of The Pointe meeting room can seat up to 75 and, at four floors above ground level, offers impressive views of the lake through its 65 lineal feet of windows.
Another five miles northeast of Minocqua is Arbor Vitae and Red Crown Lodge, which sits on the shores of Trout Lake. The tamarack log facility was built in 1922 as a retreat for Standard Oil executives and their clients, and served oil industry groups until 2001, when new owners opened Red Crown's door to business leaders, groups and professional organizations of all kinds. Today the property offers 50 guest rooms scattered among the original lodge and five additional buildings; all feature a great room for gathering, with a soaring fieldstone fireplace and beautiful views of Trout Lake and Red Crown's 1,100 feet of frontage.
Only one group is allowed on the property at a time, which helps employees really connect with one another, whether for business or pleasure. Business can easily be conducted in several spots around the property. Red Crown Lodge has a lecture hall that seats 84, a flexible 550-square-foot meeting space and several flexible breakout spaces scattered about. But many groups simply meet al fresco, sitting along the lake.
When it's time for bonding, the list of recreational options is a bit overwhelming — fishing, trap shooting, spa services, jet skiing, tennis, volleyball, horseback riding, karaoke and 36 holes of championship golf on a course winding through the thick Northern Highland-American Legion State Forest, to name a few. Staff can also put together specific team-building activities such as a scavenger hunt or ropes course.
And since nothing says community like a shared meal, Red Crown Lodge includes a much-acclaimed restaurant serving Northwoods-inspired dishes. "Our clients continually rave about the delicious food," says Sheryl Tharman, resident manager. "Platters of steak and walleye are delivered to each table and passed between guests, ensuring a community experience. We also carry an extended wine list, and our pastry chef completes each meal with a tasty dessert made fresh in the Red Crown Bakery."
Twenty miles to the northwest, nearing the tip-top of the state and its border with Michigan's Upper Peninsula, The Lodge at Manitowish Waters features 20 newly remodeled guest rooms with rustic pine log beds, perfect for small gatherings. Its conference room features 250 square feet of flexible meeting space, while a living room-type sitting area that can be used for more intimate conversations.
One advantage of this facility is that it sits in downtown Manitowish Waters, just off Highway 51, along with a cluster of local businesses. So guests can easily walk to a variety of shops, restaurants and spas when business has concluded for the day. Although The Lodge doesn't offer specific teambuilding experiences, it's easy to fashion your own, as recreational options abound. Besides a wealth of water-based sports opportunities — amazingly, more than a dozen lakes can be found in this small town — there is easy access to miles of hiking, biking, skiing and snowshoeing along the Manitowish Waters and WinMan trails, plus at the North Lakeland Discovery Center.
Wisconsin's Northwoods is a special place, beloved for well over a century as a scenic, serene destination. This is exactly why it's a wonderful spot for intimate and productive business gatherings.