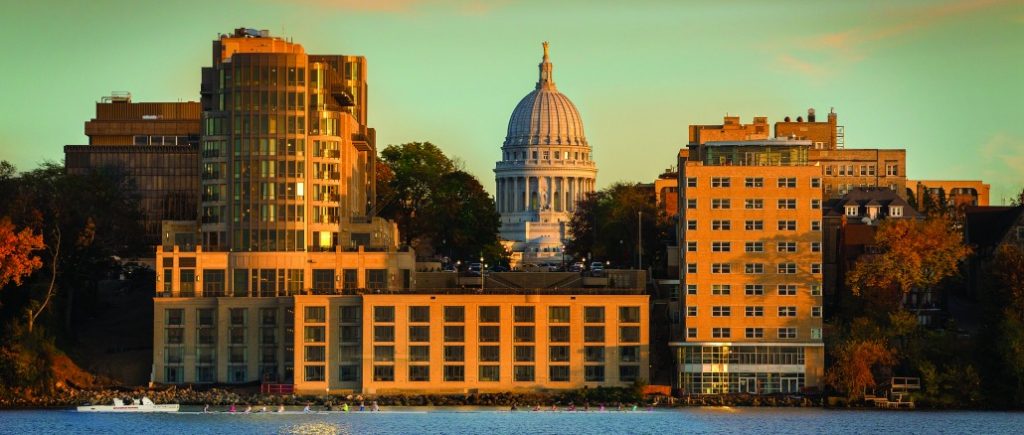 Wisconsin's capital city offers unique environment for events
02/15/2017
By Melanie Radzicki McManus | Photo Credit: Wisconsin Institutes for Discovery ©UW-Madison Communications

The white granite Capitol sits solemnly on a neatly trimmed grassy quadrant on Madison's isthmus, visible for several miles. A few blocks to its north and south, the twin gems that are lakes Mendota and Monona sparkle in the sunlight.
Head a half-mile in any direction and you pass a plethora of chic dining spots and warm, welcoming hotels. A stroll down State Street leads past eye-catching boutiques, a palette of international eateries and, eventually, to the impressive University of Wisconsin-Madison. And no matter where you are in the city, you're a mere 15- or 20-minute drive from the bucolic countryside. Add it all up, and you've got one very compelling reason to hold your next gathering in Wisconsin's capital city.
Well over 200 meetings, conferences and conventions are held in Madison annually, making it the one of the state's most popular event destinations. Part of the reason for the city's appeal is its vibrant downtown. An almost palpable energy courses between the Capitol Square and UW-Madison campus, a mile due west, as business, government and academia mix in an eclectic whirl of suits and sandals, steakhouses and food carts, museums and brew pubs. This dynamism is fed by Madison's active citizenry, who appear to be constantly buzzing around town on bikes, blades, boards and their own two feet.
While an energetic town fosters excitement, Madison's natural ebullience is far from its sole attraction as a meeting spot. For starters, the city of 250,000 has a sizable variety of conference sites that accommodate everything from cozy gatherings on up to World Dairy Expo, an annual five-day event that brings in 70,000 guests to the city's Alliant Energy Center.
One of the area's major event locales, the Alliant Energy Center, sits on 164 acres just off of Madison's Beltline highway. The versatile property is the home of Veterans Memorial Coliseum, capacity 10,000+; the 255,000-square-foot Exhibition Hall; Willow Island, a 29-acre natural space; the 290,000-square-foot New Holland Pavilions; and the 22,000-square-foot Arena. With parking for 5,800 and several hotels conveniently located right across the street, the venue is also adjacent to the Capital City Trail, one of Madison's main recreational paths.
If you take the paved Capital City Trail two miles north, you'll reach Monona Terrace. Snugged against the shores of Lake Monona, the Frank Lloyd Wright-designed community and convention center affords visitors incredible views of the water. The 250,000-square-foot facility also offers groups an exhibition hall, ballroom, multimedia lecture hall and 20 meeting rooms. There's on-site catering, an attached garage that holds 600 vehicles and more than 800 hotel rooms within walking distance, including 240 at the attached Hilton Madison Monona Terrace.
With a prime spot on the water, plus just two blocks from the Capitol Square and all of the downtown amenities, Monona Terrace's location is a major asset. Laura Mac Isaac, the facility's director of sales, says while its location is certainly key, most visitors say what they appreciate most is the staff. "We send surveys to everybody post-event, and the majority of comments focus on our service," she says. "They'll say, 'So-and-so took such good care of me.'"
Perched just steps from the Capitol are The Madison Concourse Hotel & Governor's Club and Park Hotel. The Concourse is the largest convention hotel in the city; it contains 27,000 square feet of flexible meeting space, including a 10,000+-square-foot ballroom and nearly 400 guest rooms. The Park Hotel, formerly the Inn on the Park, completed extensive renovations in 2016 that transformed both the exterior facade as well as every interior space.
Just off the Capitol Square, the new 165-room AC Hotel, a Marriott brand, is scheduled to open in April, as well as the Edgewater Hotel, which is sandwiched by the Capitol and Lake Mendota, making for some impressive views, after an extensive renovation in 2014. With easy access to downtown, the airport and the interstate, Crowne Plaza offers 11 meeting rooms and 10,000 square feet of space.
Those seeking a unique meeting spot have plenty of options, too, such as Holy Wisdom Monastery. Home to the Benedictine Women of Madison, an ecumenical community, the monastery is set in 138 lush acres of prairie and woodlands, including gardens, orchards and a small glacial lake. Two main buildings sit in the placid patch of land: the monastery and the retreat and guest house.
The two buildings' various meeting rooms can hold from four to 300, and there's lodging for up to 21. A delicious bonus: All of the food is made from scratch by the monastery's chef, and typically includes organic produce grown on site.
Other nontraditional meeting venues include wineries and breweries; Madison Museum of Contemporary Art; the Overture Center; Olbrich Botanical Gardens, a free public garden facility with a conservatory; and Longfellow Lofts, a 1917 school-turned-apartment complex that features a 2,000-square-foot theater seating 188. Customers can bring in their own food, and the stage can be transformed into banquet space.
EXPERTS HELP ATTRACT NICHE GROUPS
As home to one of America's top universities, plus thriving, innovative communities specializing in biotechnology, health care, information technology and sustainability, plenty of accomplished people call Madison home. So if your conference is in need of a speaker or two, you don't have to worry about finding the funds to fly someone to your event if you're meeting here. Just contact the Greater Madison Convention & Visitors Bureau (GMCVB), and meeting experts will help you connect. "That's a huge benefit for Madison," says Janine Wachter, director of Convention Services at the GMCVB.
The bureau, incidentally, is often cited by meeting planners as being exceptionally helpful. In June 2016, the National Farm to Cafeteria Conference was held in Madison. Tracey Starkovich, operations associate for the National Farm to School Network and 2016 conference organizer, says the organization "was amazing to work with." The CVB helped the group find local entertainment for the conference's welcome and reception, plus provided a contact with bike-share group Madison BCycle, which subsequently provided each attendee with 30 minutes of complimentary bike usage each day of the conference. But just as important, Starkovich says, is that the GMCVB exuded warmth and cheer. "They made us feel really welcome. And anything we needed — they had our backs."
One of the reasons the National Farm to Cafeteria Conference selected Madison as its meeting locale was its reputation as a leader in sustainability. "Our organization is focused on sustainable, local food, and the ready availability of local food in Madison was a big draw," Starkovich says.
Madison often uses such unique assets to attract niche groups. Science and research groups, for example, can tap into the Wisconsin Institutes for Discovery. The sprawling downtown building is dedicated to bringing together the UW-Madison and local communities for "hyper-collaborative activity" designed to help spur new scientific thinking. An organization can hold its meeting here and, during free time, its attendees can take a tour of the LEED building, dine in one of its two restaurants or take part in one of its regularly scheduled programs, such as SoundWaves. This free, innovative program combines a scientific lecture (delivered in everyday language) with a live classical music performance. Both the lecture and performance are centered on a common theme.
While Madison itself offers meeting guests a wealth of exciting entertainment and dining options, it's also located in a slice of south central Wisconsin that's convenient to many interesting spots perfect for off-site tours. Interested in an outdoor adventure while you're here? More than 30 miles of the Ice Age National Scenic Trail unspool along the western edge of the county. Into architecture? Taliesen, Frank Lloyd Wright's home and estate, is 45 minutes to the west. Enjoy wine? Your attendees can tour Wollersheim, Botham or Fisher King wineries. All of these excursions are conveniently located less than an hour from Madison.
It's no wonder Starkovich raves, "Madison is amazing!"
Those interested in sustainability and the farm-to-table movement like the National Farm to Cafeteria Conference enjoy being able to hold their gathering at places like Holy Wisdom Monastery or Monona Terrace, both of which are LEED certified. Monona Terrace has a silver certification, while Holy Wisdom holds a prestigious platinum rating, the highest available certification. At mealtime, attendees can elect to dine at one of the city's innumerable restaurants featuring fresh, local, organic produce and foods. Or they can take in the city's famous Dane County Farmers' Market, America's largest producers-only farmers' market.