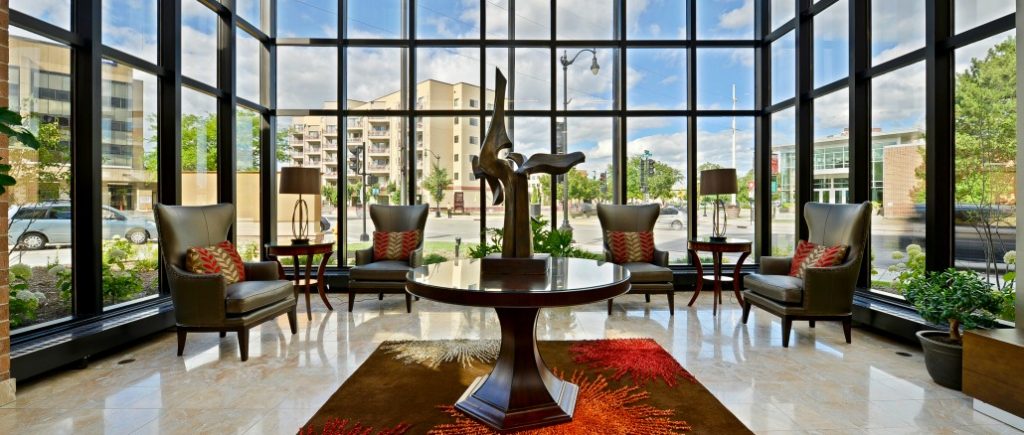 Destination Oshkosh: New facilities and a scenic setting require giving this city a close look
02/15/2017
By Nancy A. Herrick | Photo Credit: Best Western Premier Oshkosh

John Hedstrom hadn't organized a conference in Oshkosh for more than a decade. "It wasn't on my radar at all," says the executive director of the Wisconsin Association of School Personnel Administrators, who plans about five big events a year.
But when a board member suggested looking into Oshkosh for the association's April 2015 meeting, Hedstrom checked it out — and booked it.
"The Best Western Premier adjoins the Oshkosh Convention Center and it's a terrific facility," he says. "The staff was very attentive and made the planning easy and efficient. The AV people did a great job and the food was excellent."
The two-day conference attracted more than 50 people who, when asked to evaluate the experience, gave it an enthusiastic thumbs-up.
"Meeting planners will tell you that if the room temperature is right, the parking is reasonable and the food is good, that just about assures a positive response," Hedstrom says, laughing. "The Oshkosh conference delivered that, and more."
The Best Western Premier Waterfront Hotel and Convention Center underwent a $16 million renovation in 2013, says Cathy Cluff, director of sales for the Oshkosh Convention and Visitors Bureau. "So it's almost like new," she says.
As a result, significantly more meetings and conventions are coming to this city of 95,000 in the Fox Valley region, about 80 miles from Milwaukee and Madison. Hundreds of events a year attract about a million visitors, many of whom stay in the area's 1,000 hotel rooms.
Located in downtown Oshkosh and considered a full-service facility, the Convention Center and hotel complex offers a total of 24,000 square feet of flexible meeting space, including the center's 15,400 square foot pillar-less hall. The hotel has 5,700 square feet of meeting space, 176 remodeled guest rooms and specialty suites with water views.
But the Conference Center is not the only meeting facility in the area.
The University of Wisconsin – Oshkosh offers three venues.
The largest and newest is the Alumni Welcome and Convention Center, which has event spaces for as many as 500 people in its 22,000 square feet.  The University's Reeve Memorial Union and its 6,200-squarefoot ballroom can be flexibly configured, as can the eight rooms and 16 lounges of the Gruenhagen Conference Center. (Several of these spaces have restrictions on usage, regarding the mission of the organization and whether there is an educational purpose to the event. Contact the facility directly for more details.)
On the north side of town is the Sunnyview Exposition Center, a facility managed by the Winnebago County Parks Department. On its 100 acres, an Exposition Building includes Stevenson Hall that holds more than 2,800 people in its 30,000-plus square feet, the West Wing with 6,000 square feet that can hold as many as 850 people and a South Wing with 5,300 square feet that can be divided.
LaSure's, on the south side of Oshkosh, is best known for its delicious cakes and catering specialties, but it also has banquet facilities that can serve as the setting for meetings and corporate gatherings. Facilities include seven ballrooms and two conference rooms, ranging from 200 to more than 4,000 square feet.
Also on the south side of town, easily accessible to Interstate 41, is the headquarters for the Experimental Aircraft Association and its AirVenture Museum, with a wide range of adaptable meeting spaces — and so much more. A visit to the EAA is one of the main reasons visitors come to Oshkosh.
The EAA was founded in 1953 and is dedicated to the flying, building and restoration of recreational aircraft. It is perhaps best known for its annual AirVenture fly-in that attracts thousands of people (and their planes) from around the nation and world each July. Its museum is open year-round with more than 200 historic airplanes on display, and galleries and exhibits devoted to experimental aviation.
"There is almost unlimited meeting and reception space at the EAA, and because much of it is in the museum or in the hangars, it's unusual and memorable," says Cluff.
Facilities include the museum lobby, four exhibit hangars, an outdoor pavilion, a boardroom, theater, chapel and lodge, where attendees can stay.
The EAA offers more than meeting venues, however. Its team building activities are popular whether your meeting is held on site or not.
"We can plan activities for groups of all sizes," says Tara Parkhurst, museum educator. "We can plan a scavenger hunt or programs where people can build a balsa wood glider or rocket and then compete to see which flies farthest."
A "grounds initiative" course includes low ropes, high ropes and a climbing wall where teams work together to complete the activities.
"Every group is different and we can customize what we offer," Parkhurst says. "And because we have so much space, some of the outdoor activities can be moved indoors depending on the season or the weather."
Three other unusual – and historic – venues can be found in Oshkosh that provide memorable meeting sites.
The Waters on Lake Winnebago was built in1903 as a clubhouse for the Oshkosh Yacht Club. It was designed by noted architect William Waters, who also designed schools, a firehouse and the Grand Opera House in Oshkosh, as well as a building for the Chicago World's Fair.
Now privately owned, The Waters is an elegant setting for corporate events. It can accommodate 300 people indoors and as many as 1,000 on the grounds outdoors.
Dating to 1925, the Paine Art Center and Gardens is a three-acre country estate with a Tudor Revival mansion as its centerpiece. It was designed by New York architect Bryant Fleming for Jessie Kimberly Paine and her husband, but they never lived there. She was the daughter of John Kimberly, one of the co-founders of the Kimberly-Clark paper company.
Much of the art at the Paine Center came from the Paines' own collection. The surrounding display gardens include thousands of specimen plants and are open for touring.
The Paine can accommodate groups ranging from a dozen to as many as 200 in the conservatory, the carriage house or the mansion itself.
The Grand Opera House in downtown Oshkosh was built in 1883 and reflects the opulence of the Victorian era. Known for its acoustics, it attracted performers such as Samuel Clemens (as Mark Twain), Sarah Bernhardt, Harry Houdini and John Phillip Sousa. It has undergone two major renovations and is on the National Register of Historic Places.
Available for meetings and events, the historic theater has a capacity of 670 people. The upstairs lounge also is available for private events and can accommodate 75 for seated events and double that for standing receptions.
Whether or not you plan meetings at the Paine Art Center or the Grand Opera House, both are popular destinations for group outings. The Paine is open Tuesday through Sunday year-round. Call the Opera House to arrange a group tour.
Cluff says the unusual venues are part of what make Oshkosh an increasingly appealing meeting and convention destination.
"We offer some truly special settings at a value price," she says. "And all of our partners are on board to provide the best experience possible."
Linda Hale, who plans more than 50 events a year for the Wisconsin Credit Union League, found that to be true. She planned an educational conference in spring that was the league's first in Oshkosh in many years, and was pleased with the results.
"As a meeting professional I look at so many things: the service, the food, the meeting rooms, the hotel room rate, the parking. It's all important," she says. "We met at the Best Western Premier and because it is a convention center and a hotel, I only had to work with one set of planners. From
my perspective, that made it much more efficient."
Hale, who is a past Planner of the Year for the Wisconsin Chapter of Meeting Professionals International, also says the downtown setting overlooking the Fox River was lovely and relaxing.
Cluff hears that a lot.
"Like many cities, we have a downtown that is making a strong comeback and its restaurants and shops are close to the Convention Center. Best of all it's on the water and has lovely views.
"But then," she adds, "this is Oshkosh. With the river and Lake Winnebago, there's water everywhere."